A TRADITION OF EXCELLENCE SINCE 1926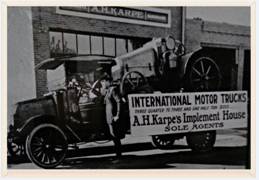 Elmer F. Karpe – Circa 1918
One of the few remaining hometown names left in local real estate services also happens to be the oldest name in Bakersfield real estate ..…. Karpe ……. Founded in 1926.
Elmer F. Karpe started in real estate in 1926 with a rented desk. He began building homes in the 1920's. In 1949 he built his first office building at 920 Chester Avenue and in 1968 the firm moved to 4000 Ming Avenue. At the time, this was the only structure on Ming Avenue west of Freeway 99. Our office is now located at 8501 Camino Media, Suite 400.
It was the Karpe name that U.S. Government called upon to appraise the land which is now known as Edwards Air Force Base. The Karpe name was again called upon to do the appraisal work for Isabella Dam after World War II.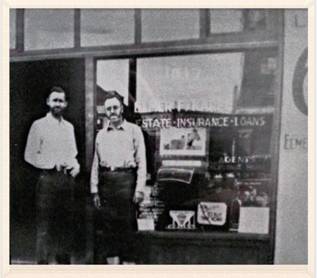 E.F. Karpe Real Estate Office – Established 1926
Elmer F. Karpe was made the Honorary President of the California Association of Realtors in 1959 and Realtor Emeritus by the National Association of Realtors in 1977. He was a past president of the California Association of Realtors and served five years as director of the National Association of Realtors.
Adeptly following in his father's footsteps, Bob Karpe continued "the tradition of excellence" and the company flourished under his leadership. He incorporated Elmer F. Karpe, Inc. on June 15, 1959 and served as president until mid-1971, when Governor Ronald Reagan appointed Bob Karpe as Real Estate Commissioner for the State of California. When Mr. Reagan was elected President, he wanted Bob to continue his service and named him President of the Government National Mortgage Assoc. (G.N.M.A.) in Washington D.C.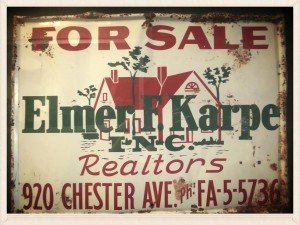 Today the company is involved in many aspects of real estate including residential sales, commercial, industrial and investment sales, residential development, new home construction services, property management, real estate services, conventional and private money (hard money)real estate loans, and appraisal services.
In keeping with the diversity of the company, it operates under the name of Karpe Real Estate Center with Tom Teagarden serving as president and Scott Berry, as Vice President.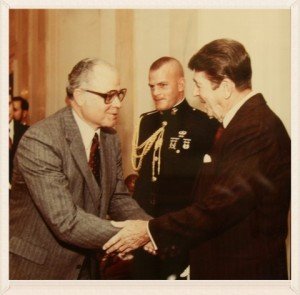 Bob Karpe at the White House
"In the midst of all the real estate changes, it is our goal to maintain leadership in our profession and to provide the same quality service we have given the past seventy years to meet the needs of our customers, our most valued asset," says Tom Teagarden.
Bob Karpe, Chairman of the Board, states, "It is our goal to continue this "tradition of excellence" into the next century, serving our customers and clients professionally and honestly…a tradition well earned and one that is our privilege and duty to continue."
With years of experience, Karpe Real Estate Center offers its clients a variety of services in all aspects of the real estate industry. The integrity and diligence of its people are the foundation for the firm's continued growth and success.